BLOOM is a student-run, design studio that focuses on "DESIGN FOR GOOD" projects for local non-profits, and under-served communities. It is an independent study course taught in the Graphic Design area of the Department of Art and Art History at UAB. BLOOM students work directly with clients and community members on projects ranging from ecology, economic development and social services. BLOOM students have done research and created design work for many pressing needs and initiatives.
A RESEARCH INITIATIVE
Being part of a Research 1 Institution, we have a unique opportunity to work in a way that aligns us to the larger idea of research at UAB. BLOOM projects are long-term, research-driven design projects. Our mission is a learning process that promotes the importance of research-based ideas that connect to a meaningful solution. BLOOM is an immersive experience which includes on the ground research, client and community meetings, proposals and grant writing opportunities.
SERVICE LEARNING // CREATIVE SPACEMAKING
BLOOM Studio is a 400 level course based on UAB's Service Learning Initiative, through the UAB Faculty Fellows in Service Learning Program. The course is taught in the fall with an emphasis on design and taught in the spring with an emphasis on illustration/image creation.
FURTHERMORE, BLOOM creates an opportunity for an academic writing platform and research trajectory for tenure.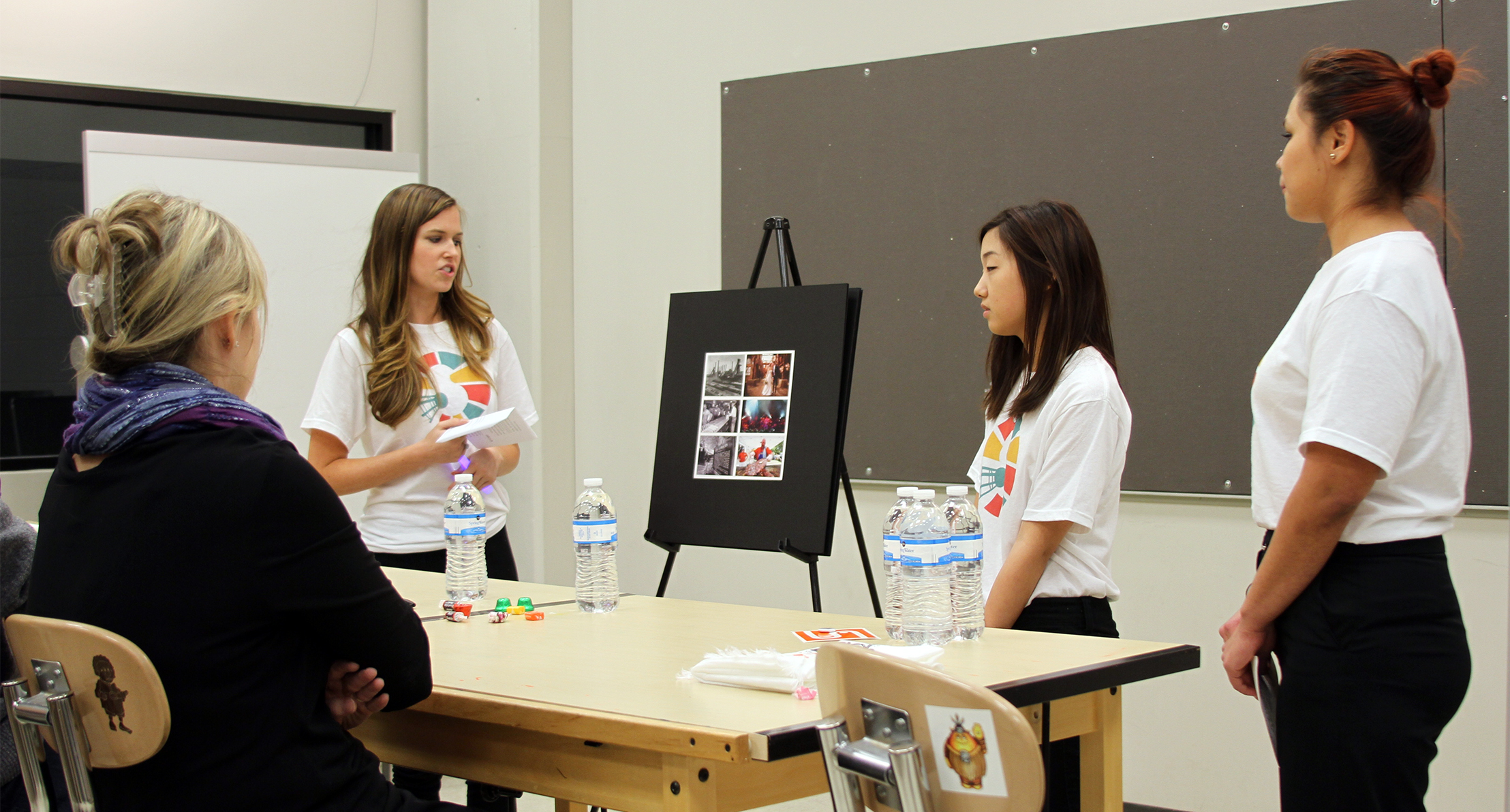 THE CAHABA BLUEWAY
LOGO // IDENTITY // WAYFINDING // COLLATERAL
OPPORTUNITY: The Cahaba River Society, a local non-profit and the community development group, Alabama Innovation Engine, approached BLOOM Studio to take on the task of creating an identity system that would be used to promote the Cahaba River to the designation of National Blueway.
RESPONSE: Working with local community members and local advertising agency, Cayenne Creative, BLOOM students and I developed a complete branding and identity system currently being used to promote and protect the Cahaba River. The studio toured local communities, remote river locations, and did several activities on the river as a way to become better informed about the characteristics and needs of the project.
The branding system acts as the physical manifestation of the river. It gives the river a visual identity that local stakeholders use when presenting the story of the Cahaba and working to raise it to the Blueway designation. The studio also created wayfinding signage, collateral materials and an iPhone application as a way to explore how the identity would be used in a complete marketing campaign.
Work from this project resulted in a SAPPI Ideas That Matter grant. The $47,000 grant was used to create a book and companion video to tell the story of the Cahaba River.
BLOOM Students were asked by the Cahaba River Society to help design an official State of Alabama auto tag that would represent the Cahaba River, build community awareness and help fund ecological initiatives. The Cahaba River Society is a local educator, expert resource, and community partner seeking to restore and protect the Cahaba River Watershed and its rich diversity of life.
Students worked directly with members of the Cahaba River Society and local ad agency Cayenne Creative to create the final tag design.
BIBB COUNTY ALABAMA
CREATIVE PLACEMAKING EXPLORATION
OPPORTUNITY: Bibb County is a rural county 30 minutes southwest of Birmingham, Alabama. The county will celebrate its bicentennial in 2018 and the local tourism board was looking for a way to visualize the celebration while reinventing the Bibb County tourism experience.
RESPONSE: BLOOM Studios participated in a design exploration with the University of Alabama's Economic Development Commission and Alabama Engine. Students worked directly with stakeholders in Bibb County, visiting local attractions, creating a SWOT and using Design Thinking to visualize a new way for Bibb County to welcome visitors.
Students created an anniversary logo, marketing materials, signage, banners, and explored ways for the county to celebrate the bicentennial while creating local interest and support.
The initial discovery document was awarded a state grant for the design and production of new brochures to be placed in rest areas throughout the state. Research initially done for the Cahaba Blueway was utilized as the Cahaba River runs directly through the county. Building on past knowledge and momentum enabled students to take a deeper look at creative placemaking for Bibb County.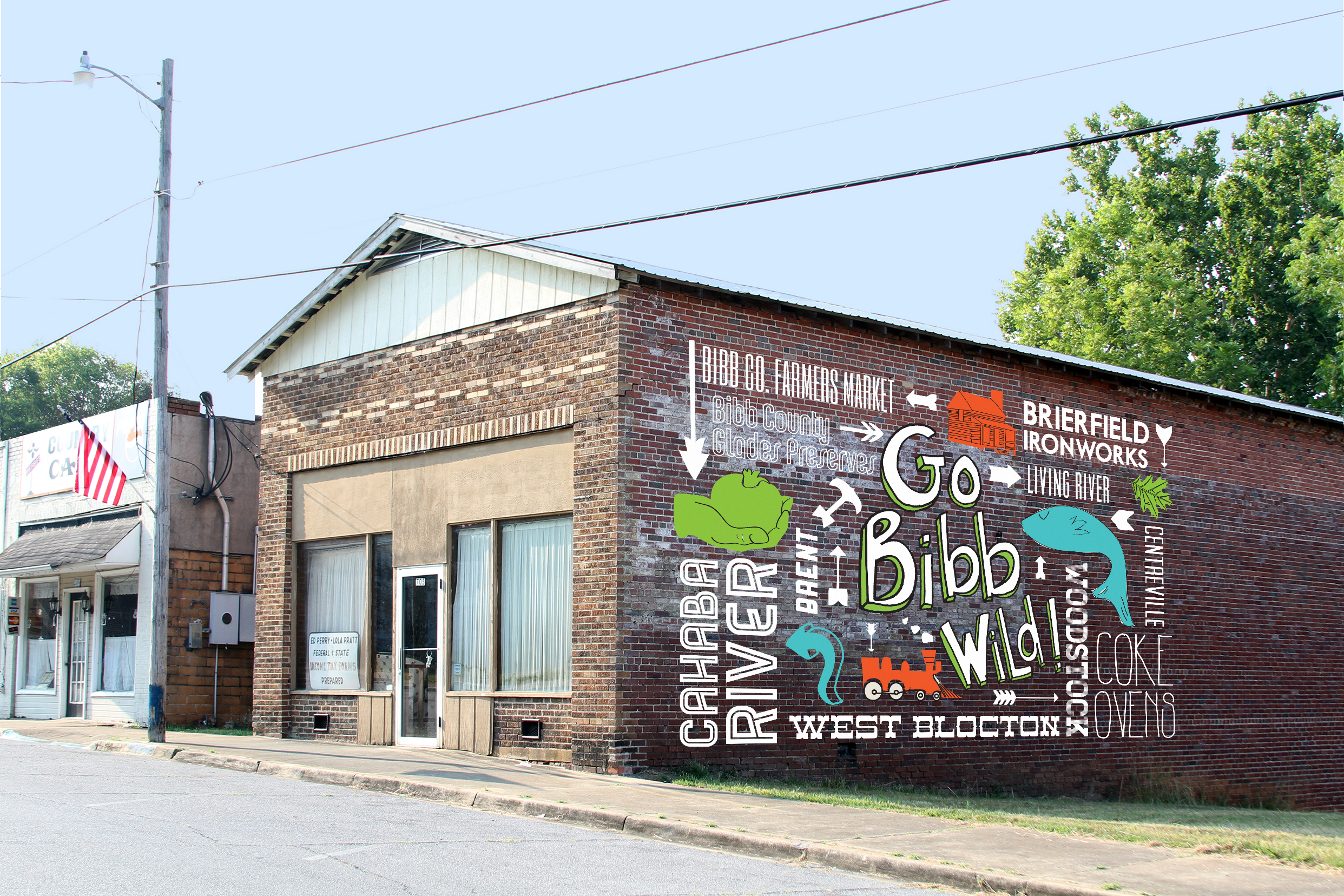 BIBB COUNTY ALABAMA
TOURISM BROCHURES
OPPORTUNITY: Bibb County, Alabama is nestled between the cities of Birmingham and Tuscaloosa, thousands of visitors driving I-20 between these cities pass Bibb County everyday. The Cahaba National Wildlife Refuge, West Blockton Coke Ovens and the Brierfield Iron Works are within minutes of the interstate. How do we alert travelers to these amazing and undervisited historic and natural sites.
RESPONSE: BLOOM Studios, working with local stake holds created two brochures that were targeted to two different types of tourist. Bibb County and the Oakmulgee WMA were already a destination of local hunters. The "Outdoorsman" brochure uses photographs, bold graphics and images of camping to attract regional hunters to the Wildlife Management Area, while highlighting other local attractions that would be of interest to historians and nature lovers.
The "Storybook" brochure uses bright colors, a hand drawn aesthetic and pre-planned one-day trips to invite casual travelers, locals looking for a close drive and those who might be more comfortable with a short day trip. A state grant was awarded, based on the phase-one design work done by Bloom Studios, to pay for printing and distributing the brochures to all state tourism rest areas.
BLOOM students become more than good designers, they also become professionals who know how to work with a client. BLOOM stresses entrepreneurial skills and the idea of working on socially responsible projects.
DESIGN FOR GOOD
BLOOM Studio is the outcome of a growing initiative within the global graphic design community to use the designers toolset and processes as a way to find solutions to the most pressing needs in our communities. This movement is called "DESIGN for GOOD." Design for Good is a nationally recognized initiative of the American Institute of Graphic Arts. The AIGA is a national organization celebrating its 100th Anniversary in 2014. Birmingham is home to a local AIGA group.
BLOOM celebrates the idea of giving back and good citizenship.
You can see more about "Design for Good" at the AIGA website.
A BETTER WAY TO GROW
Student-run design studios give their members a more comprehensive education. They train young designers to not only be good designers, but also to be young entrepreneurs. Students work directly with clients, meet deadlines, manage timelines, manage client expectations and learn presentation skills. BLOOM Studio is one of many, student-run design studios in the nation.
Many other Universities have used this same model to give their students a better learning experience.
BECOMING INVESTED
Students learn more and work harder when they are invested in the work they do. Students become invested when they feel that they are active participants in the creative process. We choose projects that offer students the opportunity to make decisions, take chances and be rewarded for hard work.
THE RIGHT PROJECTS
The right projects give our students a seat at the BIG table. They help make decisions on the front-end of the project, not merely style decisions that have already been made. The best projects allow our students to meet the players and experience the problems and issues first-hand. By getting access to the BIG picture our students become great thinkers–idea people, not just technicians.
THE RIGHT CLIENTS
We are looking for creative partners not directors. We are looking for clients who understand the benefits of a deep investment in time and energy that the Design Thinking process entails. Our ideal client wants to work shoulder to shoulder with our students as equal participants. Clients willing to work this way are themselves more invested in a better outcome.
BLOOM creates IDEA people rather than technicians.
THE STORYBOOK
Audience: Female, Mom, afternoon drivers, quick visit, active tourists.
Look and Feel: Fashion colors, warm and friendly characters,
Content: Romantic perspective that creates a story around a day in Bibb county. Broken down into smaller day trips. Easy to do.
THE OUTDOORSMAN
Audience: Male, Dad, hunters, campers, adventurers, active tourists.
Look and Feel: Beautiful pictures, idyllic outdoors, animals.
Content: Straight forward informational brochure about the outdoor amenities of Bibb County. Hunting, camping, fishing, canoeing, adventure opportunities. Requires more investment.
The Storybook directions was more popular with those traveling north/south.
The Outdoorsman direction was more popular with those traveling east/west.
BROCHURE MAP & INFO GRAPHICS
A good map is key to making visitors feel welcome and know that they can easily find their way around Bibb County. The map needs to be clear, up to date and show visitors all major roads in and out of the county. The map should hi-lite camping and RV spots.
The info graphic includes a chart that shows travel time and distance from major hubs and a chart that shows amenities at Bibb County attractions.
DESIGN THINKING IS A RESEARCH PROCESS
BLOOM students are idea people. We don't just style decisions that have already been made. We use the design thinking model to understand the problem before any design work begins.
UNDERSTAND/OBSERVE/RESEARCH
Understanding is the first phase of the design thinking process. During this phase, students immerse themselves in learning. They talk to experts and conduct research. The goal is to develop background knowledge through these experiences. They use their developing understandings as a springboard as they begin to address design challenges.
DEFINE/POINT OF VIEW
In this phase of design thinking, the student focus is on becoming aware of peoples' needs and developing insights. The phrase "How might we…." is often used to define a point of view.
user + need + insight
This phase ends with a suggestion about how to make changes that will have a meaningful impact on the problem at hand.
IDEATE
Students are challenged to brainstorm a myriad of ideas and to suspend judgment. No idea is to far-fetched and no one's ideas are rejected. Ideating is all about creativity. In the ideation phase, quantity is encouraged. Students become silly, savvy, risk takers, wishful thinkers and dreamers of the impossible…and the possible.
PROTOTYPE
A prototype can be a sketch, model, or a cardboard box. It is a way to convey an idea quickly. Students learn that it is better to fail early and often as they create prototypes.
TEST
Testing is part of an iterative process that provides students with feedback. The purpose of testing is to learn what works and what doesn't, and then iterate. This means going back to your prototype and modifying it based on feedback. Testing ensures that students learn what works and what doesn't work for their users.
REFLECTION
Part of the Service Learning component; students are asked to reflect on the process as a way to understand the importance of DESIGN FOR GOOD and doing work that promotes good stewardship.
A DAY IN THE LIFE TIME _ PROFILE MAPS
BLOOM Students were asked to "brand" Birmingham's Lakeview District. Lakeview told us that they were a great place for children, moms, teens. They wanted an identity to support that group.
LAKEVIEW RESEARCH
Adults over 21 seemed to be the main consumers within the Lakeview District. There is more for Adults over 21 to do in Lakeview. The client's idea that it is a great place for mom, small children and teens was not proven with the student research. This initial research proved to be much more important than the logo that the client thought they needed.
BLOOM 2 BOOM
BLOOM students have worked with many local non-profits, local governments and under-served communities. In the past 2.5 years BLOOM has done major design projects for:
The Cahaba River Society
Bibb County Tourism Board
The Friends of the Cahaba
Lakeview District
Sloss Reality
BLOOM Studio projects have given our students access to some of the top Birmingham Ad Agencies and creatives through cooperative projects and partnerships.
Cayenne Creative
The Intermark Group
Alabama Engine, UA
Big Communications
NATIONALLY RECOGNIZED
Work done by BLOOM students for the Cahaba Blueway was the basis for a grant application and award for the prestigious SAPPI | Ideas That Matter Grant. From this proposal, $45,000 was awarded to the Cahaba River Society to create a publication to promote the designation of the Cahaba River as a national Blueway.
THE CAHABA BLUEWAY
BLOOM Studio work done to support the Cahaba Blueway.
RECENT NEWS ABOUT BLOOM + BLOOM STUDENTS